Sr. M. Georgette Casavecchia, MSC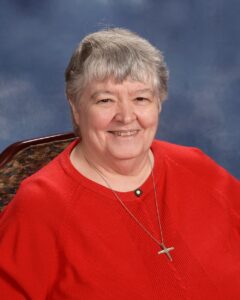 1942 – 2021
Our Sister Georgette was someone filled with abounding JOY.  It is said that to have true joy one must put Jesus first, Others second, and Yourself last.  This is how Sr. Georgette lived her life.
Sr. Georgette grew up in a warm and loving Italian family in Conshohocken, near Philadelphia.  Both her parents had emigrated to the U.S. from Italy in search of a better life.  She had two older brothers and chose her religious name in memory of her brother George who died at a young age.
Sr. Georgette came to know our Sisters when she attended Sacred Heart Hospital School of Practical Nursing in Norristown.  After graduating as a licensed practical nurse (LPN) she entered our community on September 7, 1962.
After her First Profession of Vows Sr. Georgette offered her compassionate care as a nurse in many and various ways.  She ministered in our Motherhouse Infirmary taking care of our elderly and infirm Sisters.  For several years she was a nurse and housemother at Sacred Heart Home in Coopersburg, and also served as a housemother at Mary's Shelter where she cared for unwed mothers and their babies.
Sr. Georgette also ministered in St. Mary's Hospital, Athens, Georgia, both as a nurse and in pastoral ministry at the nursing homes affiliated with the hospital.  For several years Sr. Georgette took care of the patients at Mt. Trexler Convalescent Home, Limeport, and at Sacred Heart Hospital, Norristown.  Sr. Georgette also served as a parish visitor at St. Michael Parish, Lansford.  In 1992, when our Sisters in Australia requested the "loan" of a Sister to be a welcoming presence in their Hospitality House, Sr. Georgette responded to that call.  Her openness and joyful spirit endeared her to every person she met.
Sr. Georgette came to Sacred Heart Villa in 2011 and entered fully into the community life there. She volunteered wherever help was needed especially in our Development Office.  She participated in the activities offered to the residents and always added to the fun at gatherings and celebrations.  She truly reflected the words of St. Irenaeus:  "The glory of God is a human being fully alive."  Even when early dementia set in, Sr. Georgette continued to live life to the fullest.
For the last 2 years she has resided at St. Joseph Villa, the retirement home of the Bernardine Sisters. As her health declined, she still kept her joyful attitude and a "twinkle in her eye." She suffered with great patience and never a complaint.
Sister Georgette, Beloved of Jesus, was called home to Heaven on the Feast of John, the Beloved Disciple. I can imagine Sr. Georgette saying to us:
Be comforted my Sisters dear
We are not far apart.
I rest within and you upon
Jesus' loving Sacred Heart.
The Mass of Christian Burial for Sister Georgette will be celebrated on Friday, December 31st, at our Motherhouse Chapel.  She will then be laid to rest in our convent cemetery.