Sr M. Colleen Birmingham, MSC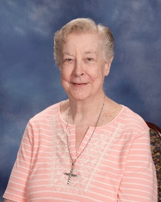 1937 – 2019
Sister Colleen grew up in a warm and loving Irish family in Philadelphia with her brother William (Bill) and her two sisters Mary and Catherine (Cass).  Somehow the family became members of the German parish of St. Henry where Sr. Colleen was taught by our Sisters in the parish school. In 1958 Sr. Colleen entered our community with a strong desire to be a missionary in foreign lands.
For twelve years following her Profession of Vows Sr. Colleen taught in several parish schools including Our Lady of Hungary, Northampton; St. John the Baptist, Ottsville; Incarnation, Palos Heights, Illinois; and St. Peter, Coplay. In 1973 her great desire to be a missionary abroad was fulfilled when she was sent to Namibia (formerly Southwest Africa) where she ministered in schools and parishes sharing God's love and compassion with all she met. Sr. Colleen spent nine years in Namibia and sadly returned to the States after sustaining serious injuries in a car accident.
Her mission of love and service continued for many years and was carried out in a variety of ways. Sr. Colleen was a parish minister at St. Margaret Mary, Parkersburg, West Virginia; St. Michael – Our Lady of Mt. Carmel in Amsterdam, New York; and St. Ann in Naples, Florida.
In 1996 Sr. Colleen returned to the city of her birth, Philadelphia, where she devoted her time, energy, and pastoral gifts in social outreach to the poor and elderly. For many years she offered her services to an organization called "Aid for Friends" whose mission is to support isolated and homebound individuals – especially the elderly – through weekly visits, home-cooked meals, and outreach services – free of charge. On the occasion of her 50th anniversary of vows in 2010, the Secretary for Catholic Human Services for the Archdiocese of Philadelphia wrote to Sr. Colleen: "We have been truly blessed to have you in our midst as a bridge to God's tender mercy and a visible reminder that we too are called to join you in joyfully caring for the needs of others as we serve them with the loving compassion of Christ Jesus our Lord."
In recent years Sr. Colleen has been a witness to God's love especially in serving the transportation needs of her neighbors in the senior apartments where she lived. It was because she was late for a commitment to drive one of her neighbors to a doctor's appointment on Monday that the apartment manager entered her room and found that she had fallen Sunday morning and was unable to move. She was taken to the hospital and was transferred to the intensive care unit as her condition became more critical.
Sister Colleen was an outgoing and friendly person with a joyful spirit who lived a life of Gospel simplicity and fidelity to her call as a Missionary Sister of the Sacred Heart. She will be missed by her family and many friends and by all of us, her sisters in community.  We are grateful that she was with us for our annual retreat at Sacred Heart Villa that ended on the Feast of All Saints. God provided that she was prepared to enter her heavenly home two weeks later.