Sister Rosemarie, MSC (Cecelia Marie Mullen)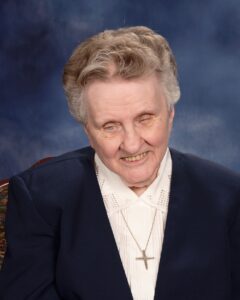 Sister Rosemarie was born and grew up in York, PA, in a family of 10 children.  It was a family centered on their Catholic faith where early morning Mass was part of their daily routine. Three of the 8 girls entered religious life, each to a different congregation:  the Carmelites, the Sisters of St. Joseph, and the Missionary Sisters of the Sacred Heart.
Sr. Rosemarie first came to know our Sisters because several of her sisters trained as nurses at Sacred Heart Hospital. She entered as a candidate on September 4, 1954 and began her journey as an MSC Sister.
In her early years of ministry Sr. Rosemarie taught at St. Peter's in Coplay and St. Cyril and Methodius in Reading. She also spent 6 years as a teacher and housemother at Sacred Heart Home in Coopersburg. After studying for her LPN (Licensed Practical Nursing) degree she returned to Sacred Heart Home for another year. In the following years Sr. Rosemarie continued her caring ministry as a nurse at St. Joseph Health Resort, Wedron, Illinois; Sacred Heart Hospital, Norristown; Mt. Trexler Convalescent Home, Limeport; Sacred Heart Hospital, Allentown; Holy Family Villa, Bethlehem; and our Motherhouse Infirmary where she extended her loving care to our sick and elderly Sisters.
In 1984, while Sr. Rosemarie was in ministry at Our Lady of Hungary in Northampton, she was diagnosed with an eye inflammation that eventually led to total blindness. At first, she still had some peripheral vision and was able to continue in ministry at Holy Family Manor nursing home and as a receptionist at St. Michael Convent.
Shortly after this part of her life's journey began (her years without sight), Sr. Rosemarie wrote a letter to her MSC Sisters. She said that when she first received the diagnosis she felt "totally drained, anxious, alone, angry and insecure." Eventually she realized: "Through my blindness, Jesus has shown me that only one thing is necessary in life:  Him and Him ALONE! I have come to see people on a deeper level – it is not how they look or the work they do but who they are: A GIFT FROM GOD! I again surrendered myself to Him totally that He may use me as a channel of His Love to others."
Even with the handicap of blindness Sr. Rosemarie continued to reach out in support of the sick and the dying with her music ministry. She learned to play the harp and shared the comfort of this soothing music in nursing homes, hospice centers and at funeral services including those of her MSC Sisters. For several years she also offered her services to Heartland Hospice by calling families who lost a loved one through death.
Since 2019 Sr. Rosemarie has resided at St. Joseph Villa, the retirement home of the Bernardine Sisters. Friday evening, she was taken by ambulance to St. Joseph Hospital where she suffered a heart attack in the emergency room and never regained consciousness. In surgery the doctor discovered that she had serious heart problems.  She died peacefully shortly before midnight.
Because of Covid restrictions at Sacred Heart Villa, the Mass of Christian Burial for Sr. Rosemarie will be celebrated on Wednesday, September 8th, at the Motherhouse Chapel of the Bernardine Sisters on the campus of Alvernia University. She will then be laid to rest in our convent cemetery.