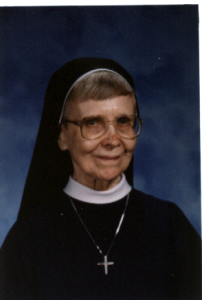 Sister Mary Dacia, MSC
(Victoria Kollar)
1912-2008
At the age of ten, Victoria Kollar arrived in Lansford, PA with her parents and sister from Slovakia. Her teachers, the MSC sisters, encouraged her entrance into the aspirancy.  Shortly after her first vows in 1933, Sister Mary Dacia  enrolled in Sacred Heart Hospital School of Nursing.  In time, she became a nursing instructor and the school's director.  Sister Dacia's devotion and Christ-like attitude profoundly influenced the future nurses under her guidance.  Like their mentor, the graduates extended Christ's compassion and care to the sick.
In 1968 Sister Dacia was appointed to the Provincial Council and served as director of the junior professed sisters. She brought her experience, enthusiasm, love, integrity, and gentleness to these new roles.
Four years later in 1972, Sister Dacia was appointed the Provincial Superior.  As Provincial, Sister Dacia guided the changes made in the sisters' formation program, enrolled the sisters in the Social Security pension, renovated the motherhouse healthcare unit, encouraged the expansion of our three hospitals, initiated a self-study of the Province, and inaugurated an advisory board of lay professionals.  During this crucial time, Sister Dacia found her strength and guidance in prayer.
After five years in office, Sister Dacia embraced a new ministry of pastoral care of the sick, first in Sacred Heart Hospital, Norristown and then in the healthcare unit of the motherhouse.  We have vivid memories of her wonderful kindness to our sisters in their frailty and dying.
In 1994, Sister accepted retirement when her physical strength diminished.  More and more, Sister Dacia surrendered herself completely.  The Heart of Jesus took Sister Dacia at her word and accepted nothing less than the total gift of herself.  In turn, Jesus became enough for her.  At 95 years of age, on Palm Sunday, March 16, 2008, Sister Dacia was called to the Father.