Sister Maria (Maria Walburgis)- Rosa Mersch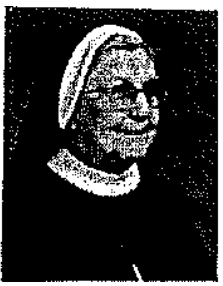 Sister Maria (Maria Walburgis)- Rosa Mersch
1902 – 2006 
Sister Maria was born at the time that our first sisters set sail for the Marshall Islands and New Britain. She embraced their spirit of sacrifice and adventure when as a postulant she, too, left home for the distant shores of America. This spirit, combined with humor and courage, characterized her entire life.
As a trained and versatile young teacher, Sister Maria quickly adapted to the pioneer conditions of several parish elementary schools. With a missionary's heart, she was ready to be sent in just twenty years to five different schools in which she taught no less than seven different grades.
By 1949, Sister Maria was well equipped to open and direct Saint Joseph School in the Deep South. Here in Athens, Georgia she spent 17 years, gradually accomplishing the full racial integration of the school. She taught for another 21 years, serving also as principal and local superior in a variety of settings. Whether it was the school and orphanage in Coopersburg, the eighth grade class in Palos Heights, Illinois, or the primary grades of our first U.S. mission in Lansford, Sister Maria radiated her enthusiasm, love, and gentleness.
Before retiring in 1989, Sister Maria spent two years in our House of Prayer community. Here she helped provide a welcome place for the prayer of others as well as her own.
With great expectancy, Sister Maria anticipated the celebration of her 100th birthday.
In  her  own unassuming  way,  she  attributed  everything  in her  long life  to  God's
 goodness.  Two years later, Sister could celebrate another milestone, her 80th year  of
profession.
During this past year, Sister Maria grew much weaker and she could no longer participate in the activities of the community. A week ago, it was apparent that her condition would not improve. The sisters kept a prayerful vigil at her bedside until she was called home.
It is difficult to imagine the province without Sister Maria who spent so many years among us. We are deeply grateful for the gift of her life, the witness of her virtue, and the greatness of her spirit. These live on in the hearts and memories of all of us whose lives she has touched so profoundly.