Sister M. Weneburg (Weneburga) – Maria Kiiuper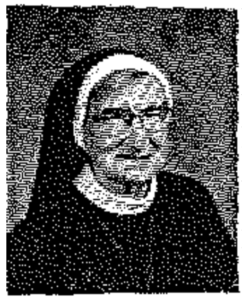 Sister M. Weneburg (Weneburga) – Maria Kiiuper
1912 – 2005 
Less than six months after her first vows, Sister Weneburg arrived in the United States on the Steamer Hamburg. Her older sister, Sister Floriberta, had just entered our congregation in Hiltrup. In 1936, Sister Weneburg studied nursing to meet our growing demand for nurses. Thus began her long "love affair" with the sick.
Sister Weneburg placed her compassionate heart, her skillful nursing, and her leadership abilities at the service of her patients and the congregation. She is especially remembered for her care of mothers and their newborns while serving as supervisor of obstetrics in both Sacred Heart Hospital in Allentown and St. Mary's Hospital in Athens, Georgia.
Sister was ever ready to help so when the need arose for a hospital administrator, she completed the required preparation and returned to Allentown, this time at the helm of the hospital and community for six years. Good Samaritan Hospital in Pottsville was under her guidance as well for fourteen years. In 1980, Sister Weneburg returned to Georgia to serve in pastoral care at St. Mary's.
 When in 1994 Sister Weneburg retired to the Motherhouse, she looked for opportunities to help others. One would see her visiting or feeding our sick sisters,   by the bedside of a dying sister, or in quiet prayer in the chapel. When her cancer returned with a vengeance earlier this year, it did not diminish her desire to be of service nor prevent her from celebrating her 70th Jubilee this August. Several days
ago, Sister Weneburg became too weak to join the cmmunity for prayer and meals. As she had done for so many, the sisters now remained at her bedside until she took her last breath.
To know Sister Weneburg is to have been deeply moved by her goodness, her understanding, and her compassion. Her quality of presence drew its authenticity from her deep and personal relationship with the Lord and Love of her life.