Sister M. Teresita Nolden, MSC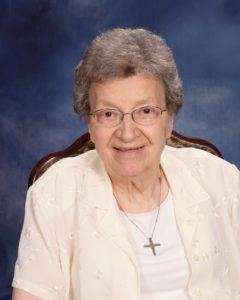 Sister M. Teresita Nolden, MSC
Born: May 6, 1928 in Vineland, NJ
First Profession: August 19, 1949
Entered into Eternal Life: November 5, 2017
Sister Teresita was the middle child in a family of 5 siblings.  Her oldest sister died of leukemia at the age of 15. Her family were parishioners of St. Henry's in Philadelphia where she was taught by our Sisters in the parish school and also at Little Flower High School.  She worked as a secretary before entering as a candidate in September of 1947.
For ten years (1950 – 1960), Sister Teresita taught in elementary schools in Coplay, Nazareth, Ottsville, Philadelphia, and Hilltown.  She was an excellent teacher who was committed to helping the children learn to the best of their ability, but she also made learning fun.  I, Sr. Rosemarie Sommers, was one of her first grade students who benefitted from her teaching skills and have many fond memories of being in her class.
From 1960 to 1965, Sister Teresita was on the faculty and eventually was principal of our Aspirancy, Mount St. Michael High School where she taught English, Typing, and French.
Her French class was taught while she was attending evening classes to learn French herself.  She did a wonderful job. She really was faithful to her vow of obedience and always said yes to whatever the community asked of her.
As the Vatican Council ended in 1965, Sister Teresita was appointed Postulant and Novice Director. The community seemed to know that she would be the best person to form the young women who entered during this time of great changes in the church and in society.  Those of us who were blest to have her as our formation director are grateful for her leader's vision, her foresight and her insight, for preparing us for our vowed life and ministry as MSC Sisters.
In 1979, Sister Teresita worked in parish ministry at St. Michael's in Lansford and from 1980 – 1984 at St. Margaret Mary Parish in Parkersburg, West Virginia.
Sister Teresita spent many years serving on several provincial councils and then as provincial from 1990-1996.  She was a leader who encouraged personal growth and initiative in the Sisters and wanted them to respond to their call to be a prophetic witness in today's world.  She had an energy and a vision which enabled us to respond to our call as MSC –to truly be the Heart of God on Earth.
Having entered a missionary community, Sister Teresita always had a great desire to be a foreign missionary.  Her wish finally came true when she was sent to Korea to teach English to the sisters from 1997 – 2002.
Sister Teresita also served as Provincial Archivist for many years. She believed in the importance of preserving the history of our province for future generations.
In her later years, Sister Teresita cared for our Sisters in Seton Manor Nursing Home in Orwigsburg where she lived close-by so that she could visit every day and take care of their needs.  She continued that care for our elderly and infirm sisters until she herself was in need of care from others.
For the last few years, Sister Teresita's health began to decline. She fell and fractured her hip a few months ago and spent some time in a nursing home for physical therapy.  She recently returned home to us and was receiving hospice care.  Early this morning, God called her to Himself.  Our hearts are filled with gratitude for the 68 years of life and mission that Sister Teresita shared with us as a Missionary Sister of the Sacred Heart.
The Mass of Christian Burial will be celebrated for her on Thursday, November 9, 2017, at 2:00 p.m. in our chapel at Sacred Heart Villa.  She will then be laid to rest in our convent cemetery.
United in the Heart of Jesus,

Sister Rosemarie Sommers, MSC
Province Leader