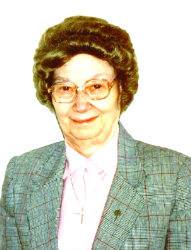 Sister M. Sophie, MSC
(Margaret Shina)
1918 – 2013
Sister Sophie entered the aspirancy of the Missionary Sisters of the Sacred Heart in Reading, PA in 1937 and made her first profession in 1943. Although Sister Sophie dealt with frail health throughout her life, this did not keep her from being a dedicated religious and engaging in very productive ministries.  She was blessed with many gifts.  After her novitiate, she studied dietary management and worked as a very creative dietitian in St. Mary's Hospital in Athens, GA.
From there, she was transferred to Mt. Trexler in Limeport, PA where she first worked in the office and then did practical nursing in Limeport and in Good Samaritan Hospital in Pottsville.  She also spent seven years in St. Joseph Health Resort in Wedron, IL.  In 1965, she was asked to take over the kindergarten in St. Henry School in Philadelphia and later at Our Lady of Hungary in Northampton.  Here again, she showed her creative talents and resourcefulness as she worked with the little children in her care.  After this assignment, she served as a homemaker in St. John's in Haycock.  During the summer months, Sister Sophie was asked to come to the novitiate to teach the novices the art of cooking and baking which she did superbly.
Sister Sophie has two sisters who are School Sisters of St. Francis.  In the 1980s, she alternated with her two sisters in caring for their elderly mother.  Their mother lived in Northampton, so Sister Sophie could continue to be a part of the local community at Our Lady of Hungary.  Afterwards, Sister returned to the educational scene and served as a library aide at St. Henry's and Our Lady of Hungary for three years.  In 1992, Sister Sophie came to the Motherhouse to retire.
Sister Sophie had an outgoing and friendly nature.  Her many talents and great adaptability enabled her to participate in a variety of ministries in which she embraced a broad array of people which included the very young, the sick, and the elderly.  We are grateful for the many years that Sister Sophie lived among us and for the many people whose lives she touched.