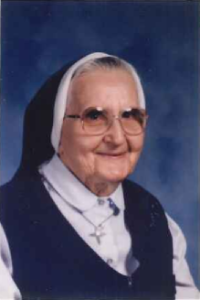 Sister M. Rosemary, MSC
(Anna Balazek)
1916 – 2012
In the early 1900's, Sister Rosemary's parents emigrated from Czechoslovakia and settled among other Slovak people in the coal mining region of Pennsylvania.  It was there in Lansford that Sister Rosemary first met the Missionary Sisters of the Sacred Heart as her teachers in elementary school.
Sister Rosemary began her long career in the field of health care by receiving her initial training as a nurse and anesthetist in the Sacred Heart Hospital School of Nursing.  She ministered in these fields in Sacred Heart Hospital in Allentown and in Good Samaritan Hospital in Pottsville. From 1953 to 1977 she worked as a missionary in Papua New Guinea.
Upon her return to the United States, she spent the next several years as a patient visitor in Mt. Trexler, Limeport, Pennsylvania and St. Mary's Hospital, Athens, Georgia.  From 1986 to 1988 she volunteered to work in the Casa de Esperanza in Houston, Texas to care for children who were victims of domestic violence.
Sister Rosemary was gifted artistically.  She was known for her calligraphy art work.  She loved to write poems and to entertain others with her shows and skits.  She was always so happy and vibrant as she recounted her life and ministry experiences.  In 1988, she attended the School of Christian Clowning.  This special ministry brought much joy and delight to both young and old.
In 1988, Sister Rosemary came to the Motherhouse and took care of the chapel and also performed various services for our elderly Sisters.  She herself retired in 1992.  Part of her retirement was lived at Seton Manor, a Catholic nursing home in Orwigsburg.  Here her physical needs were cared for and she also delighted the other residents with her humor and interesting stories.  This past year she returned to Sacred Heart Villa to be cared for by our nursing staff.
Sister Rosemary had a long and interesting life.  On February 29, 2012, she would have celebrated her 96th birthday – or her 24th leap year birthday.  We are grateful for the many years that she lived among us and for the many people whose lives she touched.