Sister M. Rosella –  Margaret Jakubco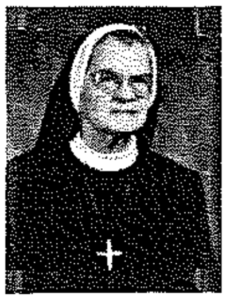 Sister M. Rosella –  Margaret Jakubco 
1915 – 2006 
Sister Rosella was the oldest of seven children who, like her siblings, was taught by our sisters in the parish elementary school. Her faith-filled parents supported her entrance into the aspirancy and also that of her sister who entered a year later. Her sister, Sister Frances, died in September 2000. The youngest child, Bernard, later became an MSC priest.
Sister Rosella generously gave herself to the service of the students entrusted to her care. As a newly professed sister, she taught the children of Slovak immigrants in SS. Cyril & Methodius School in Bethlehem. For the next 26 years, however, Sister taught mathematics at the secondary level in two diocesan Catholic high schools: Central Catholic in Allentown and Nativity of the Blessed Virgin Mary in Pottsville.
She is remembered as an excellent and dedicated teacher, one who was devoted as well to her sisters and her family. In the community, she would look for opportunities to bring joy on feastdays and holidays, or any occasion, with her humorous entertainment and practical jokes. Sister Rosella knew how to balance her life of prayer and service with a "saving sense of humor".
When Sister Rosella could no longer serve in the classroom, she helped at the Motherhouse and later in three local communities. She often combined work in the parish school and church with her duties for the sisters. In 2001, she retired to the Motherhouse. About a year ago, illness brought on constant pain and reduced mobility.
In spite of her weakened state, she remained interested in the affairs of the congregation and of her family. On the weekend before her death, she participated in the reflection on mission. Her family visited as well, in order to help with plans for Sister's jubilee celebration in August.
But God, with "His wondrous deeds", had another celebration in mind. On Monday, Sister's condition changed dramatically. Yesterday, in the presence of her sisters and her family, Sister Rosella quietly went home. What a glorious Easter she now enjoys!