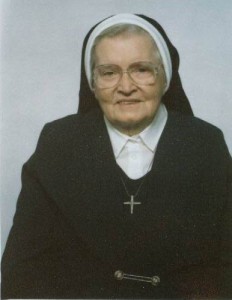 Sister M. Mildred, MSC
(Helen Imrisek)
1918 – 2011
Sister Mildred was nurtured in love and faith by her parents, both of whom emigrated from Slovakia.  They made a home for their six children in Lansford, Pennsylvania and centered their lives around St. Michael Parish where all of their children were educated by our Sisters in the parish school.  Here, Helen first felt the call to religious life.
In response, Helen became an aspirant with the Missionary Sisters of the Sacred Heart in 1932.  The call beckoned Sister Mildred to enter the novitiate and afterward profess her vows in 1938.  She taught the primary grades in SS. Cyril and Methodius, Bethlehem and then brought her skills in the classroom and her love of children to Sacred Heart Home and School in Coopersburg where she taught grades one through four.
Sr. Mildred's desire to serve in a foreign mission became a reality in December of 1950, when she arrived in Papua New Guinea in 1981.  As a missionary in Papua New Guinea for the next thirty-five years, Sister Mildred is remembered for her excellence and creativity in the classroom.  She worked in Sacred Heart International Primary School in Vunapope as well as in the large schools on several islands.  Sister spent many happy years teaching on Tanga Island.  Sister Mildred knew how to bring life and joy to her charges, and she delighted in involving the children in celebrations of the mission on feastdays and other special occasions.
Sister Mildred's common sense, good humor, kindness, and understanding were drawn from her deep love of God and of community.  She was an excellent companion in initial formation and in guiding the postulants and junior professed.
In 1985, when her health weakened, Sister Mildred returned to the United States.  As always, she was ready to do what needed to be done and what her strength allowed.  Sister served as a teacher's aide in St. Henry School in Philadelphia for two years.  She then became the coordinator for a group of retired Sisters.  In her own retirement, Sister Mildred participated in the literacy program in the City of Reading and applied her culinary skills for the local community in Linckens Center.  She had the heart of a willing and joyful servant.
With much joy, Sister Mildred celebrated her 70th Anniversary of Religious Profession in 2008.  Very soon afterward, however, her condition continued to worsen and she was no longer able to participate in community activities. We remember Sister Mildred with great appreciation for her generosity, the interest she took in the ministries of the Sisters, and her common sense approach to life.  Fittingly then, on the vigil of Easter, and in the presence of the Sisters, she was called home into resurrection.