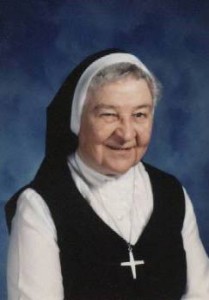 Sister M. Maureen, MSC
(Mary Rose Tarafas)
1918 – 2009
Sister Maureen began life in Northampton, Pennsylvania in the loving and faith-filled home of Joseph and Sophia Tarafas, immigrants from Hungary.  Life for Mary Rose and her family centered around Our Lady of Hungary Parish where the seven Tarafas children attended the elementary school under the direction of our sisters.  For nine years after her graduation, Sister Maureen helped to support her family as a maid and later as a factory worker.  In 1942, she finally fulfilled her desire to join the Missionary Sisters of the Sacred Heart of Jesus.
Sister was used to hard work.  She was a dependable, generous, and jovial member of community.  After her first profession of vows, Sister Maureen worked in the main laundry of the Motherhouse and later as a nurse's aide in the sisters' infirmary.  She was drawn by a desire to serve the Body of Christ as a registered nurse.  This dream became a reality when in 1956 she graduated from Sacred Heart School of Nursing in Allentown.
Sister Maureen was an excellent and caring nurse.  She served in various departments, often in a leadership capacity, in all four of the hospitals sponsored by the MSC Sisters in the United States.  We will never know how many lives were touched by her dedication, skill, and generosity in her 33 years as a nurse.  These traits characterized her later years as well when she assisted in less demanding clerical roles in the hospital.
In 1993, Sister Maureen retired and served as the sacristan of the Motherhouse chapel.  After a bad fall, her health changed dramatically.  Then, two years ago, Sister Maureen was diagnosed with a terminal illness and, following surgery, required total care.  This beautiful servant of God and nurse to the Body of Christ was now completely dependent on others.
In May of this year, Sister Maureen celebrated the anniversary of 65 years as a Missionary Sister of the Sacred Heart of Jesus.  It was a joyful occasion for Sister, her family, and us.  A week ago, however, her physical condition grew critical and it was apparent that she would soon be called home.  On the feast of Saint Michael, patron of the Motherhouse community, Sister Maureen's earthly presence yielded to a totally new existence.  May she intercede for us "in the sight of the angels."