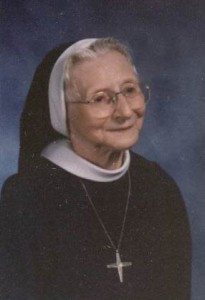 Sister M. Magdolna, MSC
(Irene T. Weigl)
1914 – 2011
The parents of Sister Magdolna came to the United States from Hungary and settled with their countrymen in Northampton, Pennsylvania.  They nurtured their children in the faith-filled environment of Our Lady of Hungary Parish and School.  It was here that Irene Theresa Weigl met our Sisters and felt drawn to the religious life.  She was received as an aspirant in 1930 and in 1935 as a candidate for the novitiate.
Seventy-five years ago, Sister Magdolna professed her first vows as a Missionary Sister of the Most Sacred Heart of Jesus.  Eager to use her training as a teacher, she taught grades one and two for only one year in the rural parish school of Saint John the Baptist in Haycock, Pennsylvania. The following year, Sister Magdolna prepared for what she is best remembered, a life-time ministry as a nurse.
For the next thirty-seven years, Sister Magdolna was entrusted with a supervisory position in obstetrics.  It is estimated that she participated in bringing 18,000 children into the world, some of whom she was privileged to baptize.  Her experience and compassion are legendary.  Sister Magdolna served in obstetrics and as an anesthetist in four of our hospitals:  Sacred Heart Hospitals in Allentown and Norristown, Good Samaritan Hospital in Pottsville, and Saint Mary's Hospital in Athens, Georgia.
Following her recuperation from surgery in 1977, Sister Magdolna spent the next seventeen years ministering in a pastoral capacity in the hospital setting.  Thirty-five years of her life were given in service to the sick in Sacred Heart Hospital, Norristown.  Then, in 1994, Sister Magdolna retired to Saint Michael Convent in Reading.
The chronology of her life alone does not do justice to Sister Magdolna.  She was petite physically and modest by nature, but she left a very large impression on those who had the privilege of knowing her.  She is remembered for her compassion, sensitivity, interest, thoughtfulness, and humanity. Her motto was:  "I give my life to God for others."
Two years ago Sister Magdolna had major surgery but when the illness returned, she declined further surgery, believing that God was inviting her to trust in His care.  On May 14 of this year, she celebrated her seventy-fifth anniversary of vows to the delight of the other jubilarians, Sisters and members of her family.  In the last two months however, she was frequently hospitalized and grew progressively weaker.  With great peace, early in the morning of August 3, 2011, Sister Magdolna surrendered her life to eternity in anticipation of her new life with Christ.