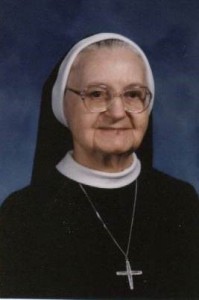 Sister M. Josepha, MSC
(Mary Lapos)
1912 – 2009
Sister Josepha's parents came- to the United States from Slovakia.  After settling in the coal regions of Pennsylvania, Saint Michael's Church in Lansford became their faith community.  It was here that Mary Lapos first met our sisters.  She was drawn to our missionary life and blossomed during her time in the aspirancy.  These years of formation were also a time of expansion for our congregation.
After her profession of vows in 1932, Sister Josepha began her missionary journey as a teacher of grades one, two, and three in Sacred Heart School in Palmerton.  Three years later, she responded to a need for nurses and   excelled as a student nurse. After completing training, she spent the next seven years as supervisor of nursing in Good Samaritan Hospital in Pottsville and then in Sacred Heart Hospital in Norristown.
God then called His daughter to farther shores.  In 1948, she left for Papua New Guinea along with Sisters Catherine Reinhart and Deofilia Lacko – the first Americans to be assigned to the South Pacific after the Second World War.  For the next 28 years, Sister Josepha served the sick.  Most of these years were spent among the lepers on Anelaua.  Her outstanding care of the lepers was recognized by Her Majesty Queen Elizabeth II, a tribute that Sister Josepha spoke of reluctantly.  When life in the tropics eroded Sister's vision, she returned to the United States in 1976.
For the next 11 years, Sister Josepha helped with medical records at Sacred Heart Hospital in Norristown.  In 1988, she returned to Reading to assist the elderly sisters of the community until she herself needed the care of others.  Suffering and prayer became her final ministry.  In spite of the loss of her hearing and vision, Sister Josepha's remained independent as long as possible.
It was most painful to witness Sister Josepha's last months.  On the Feast of the Holy Name of Jesus, January 3, 2009, after 76 years as an MSC, God called Sister Josepha home.