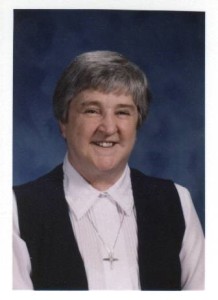 Sister M. Joanne, MSC
(Huguette LeBlanc)
1937-2008
Huguette LeBlanc was born in Ville LaSalle, Quebec, the youngest of nine brothers and sisters.  She was baptized in the church of Notre Dame du Sacré Coeur which was staffed by the MSC priests of the Canadian Province.  Years later, her parish priests would acquaint her with the MSC Sisters.
It was not easy for the young French-speaking teacher to decide to come to the United States in 1957 to enter our congregation. In fact, her brothers teasingly said that she would return to Canada within one month!  Yet she overcame the challenges of language and culture in order to realize her desire to be a missionary sister.
She loved both teaching and being a Missionary Sister of the Most Sacred Heart of Jesus.  This was reflected in a letter to Sister Elizabeth who was Provincial at the time.  Sister Joanne wrote: "Many children have asked me, 'Sister, why are you so happy?  It must be fun to be a sister!'"  In the same letter, she was requesting to be considered as a candidate "…to go to the missions."
It was with a missionary spirit that Sister Joanne taught in many elementary schools of the Philadelphia, Allentown and Atlanta Dioceses.  Due to health issues, which the climate of Georgia alleviated, Sister Joanne lived in Athens, Georgia, for a total of seventeen years while teaching at Saint Joseph School and later working at Saint Mary's Hospital in Pastoral Ministry.
Sister Joanne had been a member of the Provincial Council for six years and from 2005, of the Pastoral Team for the retired sisters in Reading. Even though she had considerable pain much of the time, she maintained a pleasant and helpful disposition.
On one occasion, Sister Joanne shared that she could not wait until the Lord came for her, and that she hoped He would come in a hurry.  The Lord responded to her longing while she was on vacation in Athens, Georgia and after participating in a communal celebration of the Sacrament of the Sick.   Sister Joanne died quickly and unexpectedly on September 6, 2008, in the 49th year of her religious profession.