Sister M. Joanna (Frances) Monticello, MSC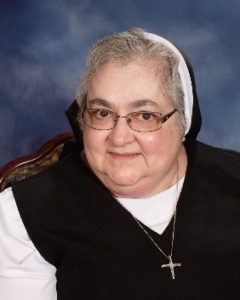 1949 – 2019
Before Sister Joanna entered our community she was asked why she wanted to become a Missionary Sister of the Sacred Heart. Her response was "To give myself totally to the Sacred Heart. To increase my love for Him by sharing this love with others and to do His Will."  Sister Joanna was faithful to this desire during her 48 years of vowed life.
Sister Joanna grew up in a very close and loving Italian family in Endicott, New York. She was the third oldest of seven children and had four brothers and two sisters. She felt drawn to religious life at a young age and so entered our Aspirancy High School when she was 15 years old. She entered as a candidate in 1967. When she received her religious name as a postulant she chose "Joanna" to honor her parents Joseph and Anna.
Her life journey as an MSC Sister led her to many and varied ministries in service of God's people. Sister Joanna was a very good cook and for several years served our Sisters at our Motherhouse and at our parish convents in Slatington, Northampton, Philadelphia, and Nazareth.
In 1977, Sister Joanna requested an exclaustration and lived in a Carmelite community to discern if she was being called to the contemplative life. After 2 years she prayed that she would receive a single red rose as a sign from God that she was meant to return to her MSC community. Her dear friend, Fr. Andy Torma, MSC, came to visit her and decided to bring a gift. That gift was a single red rose and Sr. Joanna believed that it was God's Will that she live the rest of her life as an MSC.
Sister Joanna was a licensed clinical social worker who received a Master's Degree in Social Work in 2003. She worked in Houston, Texas, at Casa Esperanza, a home for children who had been abused and neglected and children with AIDS. Sometimes their parents were prostitutes, addicts, or in prison. In one of her letters she wrote: "These are God's precious ones and knowing what they have been through in their tender years, you can't help but loving them."
From 1992 – 1996 Sister Joanna worked as a Foster Care Caseworker at the Catholic Social Agency in Allentown, PA. In1996, she was asked to be the first administrator of Mary's Shelter, a residence for young women who were pregnant. Sister Joanna also served at Lourdes Hospital in New York as a Hospice Social Worker and later as the Coordinator of Counseling Services. During this time she began caring for her elderly mother.
In 2015 Sister Joanna was asked to help establish Mercy House, a home for people with terminal illness "so they can live the final chapter of their journey with dignity and experience the unconditional love of God."  Since 2016 she has served there as the Director of Social Work and Spiritual Care. She was a comforting presence to the residents, their families, the staff and volunteers.  Each day she chose to help families shoulder the burden of terminal illness, to listen to their concerns and help them cope.
Sister Joanna was a joy to live with in community. She was a source of laughter and fun and had a wonderful sense of humor. Jesus, her Beloved, has called her home to be with him for all eternity in Heaven.