Sister M. Jeannine Racette, MSC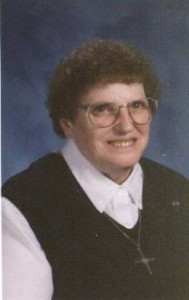 Sister M. Jeannine Racette, MSC
(M. Gloria)
1934 – 2010
Sister Jeannine's father was born in French-speaking Canada and her mother in Massachusetts. She had three brothers and one sister, Sister M. Christine, MSC who died in 2002. She was very close to her family and always looked forward to her visits home.
Jeannine left school early to help on the family dairy farm. The education she received during these years of work developed the gifts which she so generously shared with her Sisters in community and those whom she touched in ministry.
Sister Jeannine was a happy person who shared her joy through music. She would lead a group in song while strumming her guitar or playing the accordion. She delighted in recalling a song that contained the words of a phrase that was just spoken to her.
Always a hard worker, willing to give of herself and her time, she used her many talents indoors and outdoors. Her ministries varied from homemaker to chauffeur to receptionist to patient visitor. She served at Sacred Heart Home, Coopersburg; Villa St. Elizabeth, Reading; St. Michael Convent, Reading, and Sacred Heart Hospital, Norristown.
Over the last several years, Sister Jeannine's health continued to decline. She suffered from both diabetes and advanced dementia. Five months before her death, Sister was transferred to a nursing home so she could receive the specialized care needed. There was no indication that death was imminent. The nurse noticed Sister had some difficulty breathing and helped her into bed; almost immediately after, Sister Jeannine breathed her last breath. We were shocked to receive the news of her death.  Truly, "…we know neither the day nor the hour."