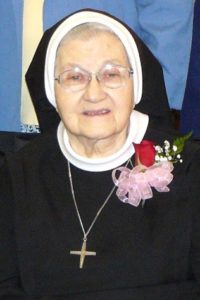 Sister M. Irene, MSC (Margaret Turek)
Born: May 17, 1925 in Palmerton, PA
First Profession: August 19, 1948
Entered into Eternal Life: December 2, 2017
Sister Irene was always very proud of the fact that she was born on the day that St. Therese of Lisieux was canonized and would say that she was the first rose the Little Flower sent from heaven. Today she has joined St.Therese and all the saints and angels in the heavenly kingdom.
Sister Irene was born and grew up in Palmerton, PA, with two sisters and one brother. Her father worked for the zinc company and her mother was a housewife. She was taught by our Sisters in Sacred Heart Parish School and so decided at a young age that she wanted to enter religious life. She attended our aspirancy, Mt. St. Michael High School, from 1939 – 1943 and then was received as a candidate. Because of poor health Sister Irene had to leave the community when she was a novice but was able to return two years later in restored health and complete her formation.
Both Sister Irene and her younger sister, Sister Margaret, entered our congregation and were given each other's baptismal names for their religious names. The sisters were very close. Sister Margaret died in 1998 and Sister Irene mourned the loss of her dear sister for many years.
Sister Irene received her teaching degree from the University of Dayton and then taught in elementary school for 39 years. During those years, she taught every grade from first to eighth in Allentown, Coaldale, Coplay, Nazareth, Northampton, Lansford, Palmerton and Palos Heights, Illinois. Several of her former students commented that she was a creative and caring teacher who made learning interesting and exciting, often making up games to keep the students' attention. She also instilled in her students a great mission awareness especially during the years that her sister Sr. Margaret was a missionary in Papua New Guinea.
From 1966 – 1971 Sister Irene was the principal of our high school aspirancy and was also on the provincial council. After she retired from teaching Sister Irene served as a receptionist at Sacred Heart Hospital in Allentown from 1989 – 1998. Her welcoming smile and friendly manner put many of the patients at ease when they came for outpatient procedures. She retired to the Motherhouse in 1998.
In the last few years Sister Irene has been a patient at a nursing home nearby where she could receive the full-time care that she needed. When it was evident that Sister Irene was beginning her final journey we brought her home to Sacred Heart Villa to be with the Sisters and the staff who lovingly cared for her. God called her to her heavenly home two days later.
The Mass of Christian Burial for Sister Irene will be celebrated on Wednesday, December 6th, in our chapel at Sacred Heart Villa. She will then be laid to rest in our convent cemetery.
United in the Heart of Jesus,



Sister Rosemarie Sommers, MSC
Province Leader