Sister M. Helene (Heliana) – Rose Ditsky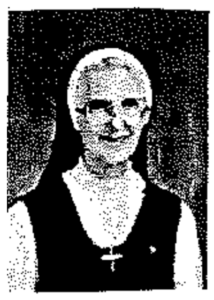 Sister M. Helene (Heliana) – Rose Ditsky
1909 – 2006 
Sister Helene came to know our sisters as a child in the parish school of St. Michael in Lansford. The Missionary Sisters of the Sacred Heart had recently arrived in the United States to work among the immigrants in Lansford and the surrounding parishes. With similar enthusiasm, Sister Helene entered our congregation in 1927. Her older sister, Sister Epiphania, who died in 1984, had joined us eight years earlier.
After her first profession, Sister Helene began her long and dedicated ministry of teaching in the various parish schools of our diocese. Her students remember her with great fondness. When in 1980 she left the classroom, her characteristic prayerfulness, friendliness, kindness, and thoughtfulness brought comfort to the sick of St. John the Baptist Parish in Allentown. In 1993, Sister Helene retired to our Motherhouse in Reading where her ministry of prayer would expand.
Within the last years, Sister Helene's health and mobility weakened. Even so, she was always eager to join in community prayers and activities. It was quite surprising when, after a happy day in which she enjoyed the company of friends and staff, she fell asleep peacefully only to awaken in the presence of our Father in heaven. As we enter the Christmas season, the words of the hymn, Silent Night, come to mind and heart for Sister Helene, "sleep in heavenly peace; sleep in heavenly peace. "  May she now intercede for us and our world.