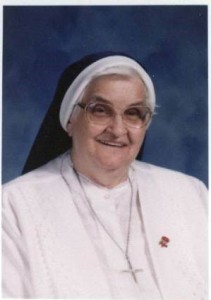 Sister M. Grace, MSC
(Regina Bonenberger)
1918 – 2009
The great flu epidemic of 1918 was raging when Regina was born, the 13th child in the family.  The flu soon claimed the life of her father.  Named after the Queen of Heaven, Regina's patroness protected and guided her to maturity and entrance into the Missionary Sisters of the Sacred Heart of Jesus in February, 1938.
Shortly after her first profession, Sister Grace gave her energy to the many domestic chores of the Motherhouse.  She was asked to temporarily "relieve" another sister at Villa Saint Elizabeth Home for the Aged in Reading, an assignment that lasted for 17 years.  This ready response to the needs of others clearly marked the active ministry of Sister Grace for the rest of her life.
Many of the ensuing years, from 1965 until her retirement in 1993, were spent in service to the various communities of our sisters engaged in elementary education in parish schools.  At the age of 72, she traveled to Mound Bayou, Mississippi to serve with our sisters working in one of the poorest black communities of the state.
Sister Grace immersed herself in every local situation to which obedience led her.  She enjoyed assisting the women of the parish in their projects.  Her circle of friends was very broad.  Her sense of humor and many interests endeared her to many.
On February 25, 2009, in her 70th year of vowed life as an MSC, Sister Grace was welcomed into the waiting arms of her bridegroom and her heavenly queen, "Salve Regina!"