Sister M. Ethel (Edelgard) – Elizabeth Haveloh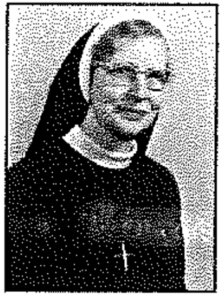 Sister M. Ethel (Edelgard) – Elizabeth Haveloh
1913 -, 2007 
Several months ago, Sister Ethel fell and fractured her leg. Her weakened condition and the need for rehabilitation necessitated her transfer to Manor Care Skilled Nursing Home in Sinking Spring, a few miles from Sacred Heart Villa. This past week, after experiencing seizures, she was admitted to the hospital. Nothing could be done for the mass that was discovered on her brain; therefore, Sister was brought home on Wednesday and hospice care begun.
In 1935, Sister Ethel came to the United States; her cousin, Sister Brendan, MSC served in Australia. Sister Ethel leaves a legacy of service to others carried out with a gracious and willing spirit. Because of her readiness to go or stay wherever she was asked, Sister experienced much variety in the 24 assignments given her during 60 years of active ministry! For 50 years, she taught in various parochial schools in Pennsylvania, Illinois, and Georgia.
After leaving the classroom, Sister Ethel was sacristan for the next ten years, serving at St. Michael Convent, Reading, PA and then at St. Mary's Hospital, Athens, GA. In 1995, when Sister retired, she was happy to use her skills as a seamstress in the sewing room at St. Michael's. The sisters recall that she was always ready and happy to do a favor for anyone.
Sister Ethel was always interested in the world around her and especially in congregational news. Until her fall a few months ago, she came to chapel for daily Mass and participated in province gatherings as best she could. Her pleasant smile and long, involved stories will be missed.