Sister M. Elise, MSC (Isentraud)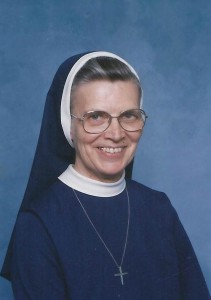 Sister M. Elise, MSC (Isentraud)
(Apollonia Heuel)
1925 – 2012
When Sister Elise was two years old, her father died.  Since the family had no place to live, her mother's brother, a parish priest, took them in.  They lived on the second floor of the rectory and he shared what little he had with them.  It was a beautiful atmosphere in spite of their poverty.
From her early childhood, Sister Elise dreamed of becoming a missionary.  She arrived in the United States, together with eight other MSC Sisters, on May 15, 1951 on the Steamer Washington.
She spent her first years in the diet kitchen of the Motherhouse as she learned the English language.  In 1957, she began her studies as a licensed practical nurse and worked as a nurse for the next forty years in three of our community-sponsored hospitals in Norristown and Pottsville, Pennsylvania and in Athens, Georgia, as well as in a convalescent home in Limeport and homes for the elderly in Reading, Pennsylvania and Wellsburg, West Virginia.  She also worked sixteen years in our Motherhouse infirmary.
Sister Elise was quiet, unassuming, kind, and compassionate.  Both Sisters and lay staff loved working with her because of her gentle nature. She never put herself first and no service was too much for her.  Her ministry could be summed up as a life of love for others.  She was always interested in others and delighted when the Sisters returned from various ministries across the United States or from other countries and shared their stories.
During her time of retirement, Sister Elise continued to be attentive to our elderly Sisters as they grew weaker and less able to care for themselves.  She also was very kind and helpful to the lay residents living in Sacred Heart Villa since 2004.  For some, the highlight of their day was to have an encounter with Sister Elise, to receive her help or to hear her words of kindness and concern.
Over the years, Sister Elise maintained a beautiful closeness with her family in Germany.  At the end of January, 2012 her niece, Theresia, and grandniece, Maria, visited her and they enjoyed this special time together.
Before she died Sister Elise must have had a premonition that she was going to die.  Earlier that day, she received a phone call from Germany.  She spoke with her sister, Agnes, and said "good bye" to her.  Afterwards, she asked to receive the Sacrament of the Anointing of the Sick.  In the early afternoon, Sister Elise told us that she was ready to meet God.