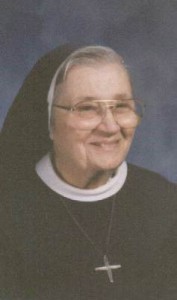 Sister M. Deofilia, MSC
Vilma Lacko (Latsko)
1918 – 2009
Sister Deofilia began life as one of four children of hard-working Slovak immigrants in Lansford, Pennsylvania.  There, the parish church and school, our first mission in the United States, was the center of her life.  It was no surprise to those who knew her that Vilma wanted to join the Missionary Sisters of the Most Sacred Heart of Jesus after she graduated from Saint Ann High School in 1936.
Sister Deofilia began her professed life as a third grade teacher in Saint Henry Parochial School in Philadelphia. After completing her degree in education, she joined the faculty of Central Catholic High School in Allentown.
When missionaries were needed in Papua New Guinea after World War II, Sister Deofilia was sent to the South Seas in 1948.  Most of her thirty years of service in Papua New Guinea were spent in teaching the mixed race children in the Sacred Heart International Primary School in Vunapope.  She loved her students and understood their unique needs.  Sister's keen mind, organizational skills, and generosity suited her well for a leadership role among the sisters.  In 1972, the  mission in Papua New Guinea was elevated to the level of a province with Sister Deofilia as its first provincial superior.
When her six-year term as provincial was completed, Sister Deofilia  responded willingly when was asked in 1978 to assist in the generalate in Rome. For the next seven years, she applied her experience and skill with languages to the great work of revising our constitutions which gained approval in 1984.  The following year she returned to the United States where, until her retirement in 1995, she held a variety of clerical and administrative positions.
In time, the wear and tear of her years in the tropics became apparent. Even though her body lost its strength and mobility, her wit and humor remained. On the evening of March 8, 2009, the Divine Bridegroom called her home after seventy years as an MSC.