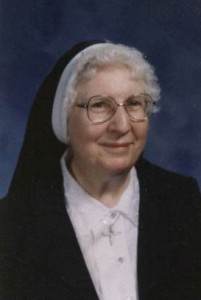 Sister M. Catherine, MSC
(Veronica A. Reinhart)
1915 – 2009
As the second oldest of four children, Veronica grew up in St. Henry's Parish where our Sisters taught in the parish school.  She attended Hallahan Catholic Girls' High School in Philadelphia.  With her parents' blessing, she entered our congregation in 1935.  A year after her first profession, Sister Catherine began teaching grades one and two in St. Peter School, Coplay, Pennsylvania.
Eleven years later, the Lord on whom she relied, asked Sister Catherine to go to a distant land.  With trust and a sense of missionary adventure, Sister Catherine left in 1948 with Sisters Josepha and Deofilia for Papua New Guinea, the first American MSC Sisters to be sent there after the devastation of World War II.  Remarkably, all three of these admirable missionaries died this year, 2009.
Sister Catherine's life in Papua New Guinea was cut short when, in 1956, a serious illness required her return to the United States.  As she slowly and painfully regained her health, Sister Catherine served as a receptionist and secretary in the Motherhouse and later at the School of Nursing in Sacred Heart Hospital, Allentown.  She returned to the Motherhouse in 1968 where she ran the printing press for eleven years.  From 1979 to 1987, Sister Catherine managed the Office of Volunteer Services for Sacred Heart Hospital, her jovial nature and skills serving her well.  She loved children and enjoyed helping them as the school librarian in several locations.  Before her retirement in 1993, she assisted the provincial secretary.
Sister Catherine was an accomplished pianist, a talent fostered by her musically-gifted family.  She not only accompanied our liturgical singing, but also entertained us with more popular music, sometimes playing a duet with a friend.  She enjoyed board games and cards with the sisters.  Her love for a good book never left her.  Sister Catherine loved life and added much to the lives of those around her.  We have many good memories of Sister Catherine, whom we affectionately called "Katie".
Sister Catherine was diagnosed last year with a terminal illness and it was difficult to witness her diminishment.  During the last days, we kept prayerful vigil at her bedside. It was most fitting that at the moment of Sister Catherine's death; the sister who was present was singing Psalm 103 to Sister Catherine and playing on the guitar, "Loving and forgiving are you, O Lord."
In her seventy-third year as a Missionary Sister of the Most Sacred Heart of Jesus, at age ninety-three, Sister Catherine was welcomed by a whole choir of angels to her heavenly home on July 1, 2009.