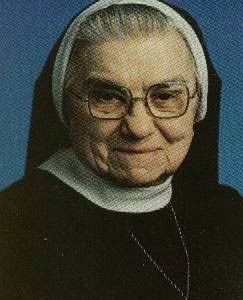 Sister M. Antonette, MSC
(Elizabeth (Marcak) Martinko)
1913 – 2009
Young Elizabeth Martinko attended Saint John the Baptist Parish School in Allentown, then staffed by the MSC sisters.  She became an aspirant along with her step-sister Magdalen, Sister Donna Marie (+2000).  Their older sister, Sister. Helen Marie (+1984), became an MSC in 1927.  Both Sister Antonette and Sister Donna Marie entered the novitiate and were professed in 1933.  Together, they completed their training as nurses in 1937. Sister Antonette embodied the essence of nursing.  Her gospel heart and her graduate studies served her well in the role as Director of Sacred Heart Hospital School of Nursing in Allentown, a position she held for 22 years.
In 1966, Sister Antonette ventured away from her beloved Sacred Heart Hospital in Allentown to serve the needs of Saint Mary's Hospital in Athens, Georgia..  As Director of Nursing until 1980, Sister Antonette fostered a culture of caring and excellence in the entire hospital. Her influence was enormous.  She continued to serve in Saint Mary's Hospital in various less demanding positions until her retirement to Reading in 2003.
Sister Antonette touched the hearts and lives of those around her in whatever situation obedience called her.  As local superior, she was caring, generous, and encouraging.  Her leadership qualities were evident on the local and provincial levels as well as in the hospitals where she served.
Throughout her life, Sister Antonette witnessed beautifully to what it means to be a Missionary Sister of the Most Sacred Heart of Jesus – in her family, among her sisters, for her beloved poor, in her ministry, by her leadership, and finally in her old age.   In her seventy-sixth year as an MSC at age 95, Sister Antonette surrendered her full life on March 8, 2009.