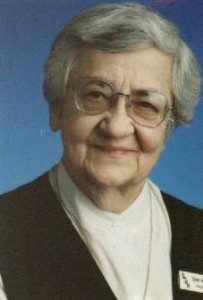 Sister M. Annette, MSC
(Helen Juna (Dzuna))
1918 – 2010
Sister Annette came to know the Missionary Sisters of the Sacred Heart as her teachers in St. Michael School in Lansford, Pennsylvania.  With her parents' blessing, she entered the newly begun aspirancy in Reading in 1932. Helen Juna was an excellent student – a seeker of truth and knowledge her entire life.  She likewise pursued the Lord's call to religious life and professed her vows 71 years ago.
Her first ministry as a Missionary Sister of the Sacred Heart was to serve as house parent and counselor at Sacred Heart Home and School in Coopersburg. Fourteen years later, Sister Annette began the first of another fourteen years as a teacher of high school mathematics in Central Catholic, Allentown as well as Nativity BVM, Pottsville and the aspirancy. After earning advanced degrees, she taught psychology at Sacred Heart Hospital School of Practical Nursing in Norristown for 8 years.
As Sister Annette approached the celebration of her golden jubilee, she was blessed with a year's enrichment program in the School of Applied Theology in Berkeley, California. From 1988 until her retirement in 2003, Sister Annette was a compassionate presence to the sick and elderly in pastoral ministry. This new venture took her to Sacred Heart Hospital, Norristown, Rocky Creek Village in Tampa, Florida, and lastly to St. Mary's Hospital in Athens, Georgia. Wherever and in whatever ministry she served, Sister Annette gave herself totally.
Sister Annette suffered with physical ailments her entire life. It was not surprising then that, after her retirement to Reading, her health declined even further. In the last year, she grew visibly weaker. Remarkably, however, when death drew near, Sister's final passage was quick and peaceful.
We can draw inspiration from the life and ministry of Sister Annette and from the epitaph she selected from the Psalms for her tombstone:  "At dawn, I will revel in your kindness, O God."