Sister M. Adella – Irene Rita Lukac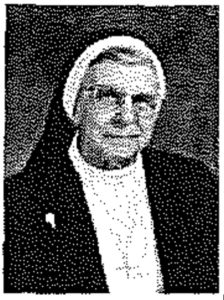 Sister M. Adella – Irene Rita Lukac 
1924 – 2005
Sister Adella's mother came to the United States from Slovakia. Eventually, her parents settled in Lansford, PA where in the parish elementary school, Irene Rita Lukac first came to know and love our sisters. In 1938, she entered the aspirancy in Reading.
In 1946, Sister Adella began her beloved ministry of teaching. For the next 45 years, at various levels of elementary education and in many different parish schools, Sister touched the lives of countless children and their families.
In 1993, she ventured into the world of healthcare where at Sacred Heart Hospital in Allentown, Sister was medical librarian for the physicians. She was especially helpful to those doing research and to the interns who needed reference materials.
Sister Adella drew her inner strength, her availability for mission, her willingness to help, and her joyful outlook from a fervent life of prayer and genuine community spirit. When, after several strokes, her abilities were greatly affected, she never lost her eagerness to help the persons around her.
Three days before she died, Sister Adella's condition changed dramatically. It was apparent that her death was approaching. The sisters began their prayerful vigil at      her bedside until, with characteristic availability, she surrendered her beautiful soul to the Lord.