Sister M. Adelfried – Anneliese Fischer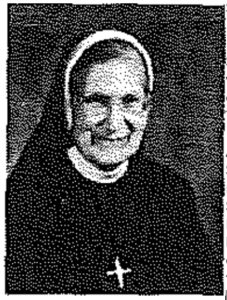 Sister M. Adelfried – Anneliese Fischer Born:
1913 – 2005 
Sister Adelfried entered the aspirancy in Hiltrup in April, 1927 along with our Sisters Ethel and Canice. The three of them came to America on the Steamer "Hamburg" in 1935 and have been together for these 78 years.
After her final profession in 1939, Sister spent a few years helping in Sacred Heart Hospital, Norristown. Then she began a long and fruitful ministry as a teacher. She taught kindergarten through eighth grade in St. John's, Allentown; St. Remy's, Philadelphia; Our Lady of Hungary, Northampton; Assumption B.V.M., Slatington; Our Lady of the Sacred Heart, Hilltown; and St. Joseph's, Lebanon, Illinois. She was an excellent teacher who was dearly loved by her students wherever she taught.
From 1966 to 1979, sister was principal as well as teacher in St. John's, Allentown and Our Lady of the Sacred Heart, Hilltown. She then served as Director of Religious Education at Holy Guardian Angels, Reading.
Sister Adelfried was a woman of faith and prayer. No matter where she was or what ministry she served in, she always managed to find prospective converts and instruct them in the faith. We will never really know how many she prepared, or how many Catholics she brought back to the Church. It was truly a work of love.
Sister Adelfried retired from active ministry and came to St. Michael's   in 1993, but she did not retire from loving service. She was always ready to do a favor for anyone. She also continued to instruct converts and prepare them for the sacraments. She cherished the sick and retired sisters and often prepared little treats for them, relaxing music or religious videos for their enjoyment. She loved to pray with the sick and dying and spent many long hours with them.
About a year ago Sister Adelfried had abdominal surgery and became incapacitated herself. From that time on, she was unable to do anything. She spoke very little and just sat in quiet resignation.
About 1:00 a.m. this morning, the nurse called Sister Virginia Marie to tell her that Sister Adelfried had suddenly become extremely weak. A few hours later she peacefully went to rest in the Lord.