Sister Joan Marie Swann, MSC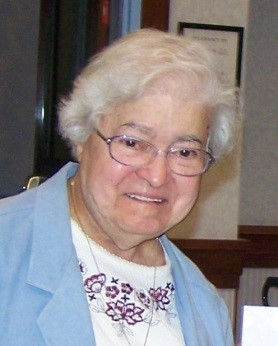 Sister Joan Marie Swann, MSC
(Sister Marilyn)
1930 – 2015
Sister Joan Marie was the youngest of nine children.  They lovingly referred to themselves as "the nine Swanns".  Sister Joan attended Little Flower High School in Philadelphia where she first met the MSC Sisters.
For thirty-six years, Sister Joan taught either first or second grade in our parish schools in Allentown, Lansford, Nazareth, Reading, Limeport, Coplay, and Philadelphia.  For ten of those years she also was the local superior in some of those communities.  She was the motherhouse coordinator from 1984 – 1988.  In 1989 Sister Joan was assigned to our Lady of Hungary School in Northampton where she served as the librarian.  During this time (1993 – 1996), she also served part-time on the provincial council.  In 2006 Sister Joan came to the motherhouse to retire.  However up until a few months ago she still worked in the sacristy, preparing for our daily Masses.
Sister Joan was a wonderful teacher.  This is testified by the fact that she often received visits from her former first grade students, as well as from the teachers with whom she worked.  She had a tremendous influence on people.
Sister Joan loved her vocation.  She loved community life and always put it before her personal desires.  She included everyone and accepted everything.  She knew how to enjoy life and how to bring joy to others.  Sister Joan was always joyful and upbeat.    Every one of us has our "Joanie stories" because she had the ability to add humor to any event.
Sister Joan loved her family and her family loved her.  She was very dedicated and faithful to our MSC Community and so were her relatives.  Each year the "Swann Family" was one of the sponsors of our Nun Run and this year thirty of them accompanied Sister Joan in her wheel chair in the 5K Run /1K Walk.
Sister Joan had many interests, both profound and mundane.  One of her loves was for music, especially county-western sung by her hero, Roy Rogers.  His signature song, "Happy Trails to You, Until We Meet Again" became her wish to us in these last days as she prepared for the most important journey in her life.
One of the staff members at Sacred Heart Villa spoke succinctly about Sr. Joan:  "No words can say how wonderful Sister Joan was, always pleasant, always there to help others."   We are most grateful that God called Sister Joan to our MSC Congregation so that we could see His goodness, His all-embracing love, His genuine interest in others and His great joy manifested in her life.