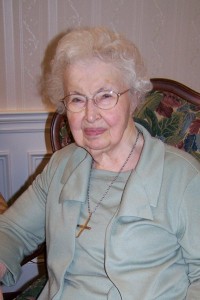 Sister Helen Papan, MSC
(Sister Lucille)  1943 – 2015
Sister Helen grew up in Reading, Pennsylvania with her parents and two younger sisters. They belonged to St. Cyril and Methodius Parish where Sister Helen attended grade school and was taught by the Missionary Sisters of the Sacred Heart of Jesus.
Sister Helen entered the aspirancy in 1938. After her novitiate, she began her long ministry in health care by receiving her initial training as a nurse in our own Sacred Heart Hospital School of Nursing in Allentown and later her degree in nursing at the University of Dayton. From 1949 – 1956 she was nursing supervisor in Good Samaritan Hospital in Pottsville and from 1956 to 1963 in Sacred Heart Hospital in Norristown. After further studies she served as assistant director of nursing service in Pottsville and Instructor in the school of practical nursing in Norristown from 1966 – 1968.
For two years, from 1968 – 1970 she was asked to be director of vocations for the province. After this she again returned to nursing as supervisor and assistant director of nursing service in our hospital in Norristown. From 1977 to 1980 she studied at the University of Pennsylvania and then taught nursing at DeSales University for seven years. For the next two years she was home caring for her aged father.
In 1989 Sister Helen began a new ministry in Sacred Heart Hospital in Norristown in patient education, and in 1995 she embarked on another special ministry in Mound Bayou, Mississippi. In this poor southern town, Sister became a special advocate for the poor and elderly as she devoted herself to their home health care and interceded on their behalf before various government and health care agencies. When we as a province withdrew from Mound Bayou, Sister Helen continued to minister in Mahanoy City, Pennsylvania as the regional parish outreach social worker. In 2005 she retired to the motherhouse.
Since her retirement in 2005, Sister Helen bore a number of physical ailments, but through them all she showed great courage and determination. When she received the news that cancer had recurred for the third time, she took the news in stride and chose to begin treatments once again; however, she continued to grow weaker and finally God called her to Himself.
Whether it was in hands-on nursing, supervision, education or social work, Sister Helen gave herself wholeheartedly. She was very competent and efficient, and had a special place in her heart for the poor and disadvantaged. Sister Helen was very friendly and outgoing and had a great sense of humor. We are grateful for the many years that she lived among us and for the many people whose lives she touched.