Sister Charlene Altemose, MSC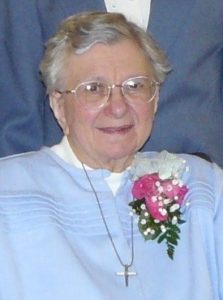 Sister Charlene Altemose, MSC
1934 – 2017
Sister Charlene touched the lives of many through her varied ministries.  From 1955 to 1966 she taught grades one through eight in St. John, Allentown, SS. Cyril and Methodius in Reading, St. Michael, Lansford, and St. John, Haycock.  Her former students remember her very interesting and enjoyable classes.  She taught in secondary schools in our aspirancy, Mount St. Michael High School, and in Holy Name High School, both in Reading from 1966 to 1969.  From 1969 to 1980 she was a professor of theology and world religions and taught in our novitiate as well as at Alvernia University, Reading and at De Sales University in Allentown.  During these years, she obtained a Fulbright Scholarship to India and a Christian Leadership Grant to Israel.  These opportunities as well as other post-graduate studies enabled her to be a successful professor of world religions and a gifted national workshop presenter.
During her sabbatical year she wrote a book on the scriptures of the East, The Hindu Bhagavad-Gita. Following this sabbatical in 1981, she served as director of Religious Education for Adults in St. Ann Parish in Bethlehem, St. Ann Parish in Naples, Florida, St. Catherine of Siena Parish in Mt. Penn, St. Ignatius Parish in Sinking Spring, and worked as resource person for parish ministry in Sacred Heart Parish, West Reading.
In addition to these ministries, in 1988 she embarked on a new venture, that of journalism.  She was commissioned by Ligouri Press and William Brown Company to write a series of books: "Why Do Catholics…" and "What You Should Know About …" She also published a weekly column in the Bethlehem Globe newspaper in which she situated everyday life in a faith context.  She entered into all these ministries with her whole heart and soul.  In 2008 she retired to Sacred Heart Villa.
Throughout her life, she was a happy person, talented musician, especially with the piano and organ.  She also enjoyed her hobby of crocheting afghans.
In 2014 her health began to deteriorate and the special care she required was more than Sacred Heart Villa could provide. We made arrangements for her care with the Bernardine Franciscan Sisters who have a facility for their aged Sisters nearby.  This was a perfect place for Sister Charlene since she related so well to the Sisters and from her bedroom window she could see a few of the university buildings where she formerly taught.  We are most grateful to the Bernardine Franciscan Sisters and their staff for the loving care they provided for Sister Charlene.