Sister Catherine Cellini, MSC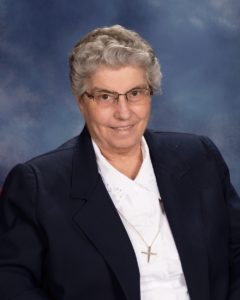 1942 – 2019
Sister Catherine was born and grew up in Philadelphia.  She attended St. Henry parish school where she was taught by our Sisters and graduated from Little Flower High School. She herself became a teacher but after one year felt God calling her to be a Missionary Sister of the Sacred Heart. When asked: Why do you want to become a Religious, she responded: "God gave me a happy life filled with love and I would like to repay Him by giving myself to Him."  And so she entered our community in 1960 and two years later made her first profession of vows.
After her studies at Cabrini University Sister Catherine taught Math and Science in several local Catholic high schools in Reading, Allentown, and Pottsville. She was an excellent teacher, very patient and kind, and had a special gift to teach these challenging subjects in such a way that all her students could understand.
Sister Catherine had the heart of a missionary and volunteered for service in our foreign missions. In 1973 she wrote to the Provincial: "The reason I entered the MSC Community was because of its missionary activity. Father Linckens said we are to be missionaries always and everywhere and if I am not qualified then I will accept the place where obedience sends me as my personal missionary field.  My prayer is that God's Will be done."
In 1977 Sister Catherine's desire was fulfilled and she was sent to our mission in Papua New Guinea where she served as a teacher and director of religious education until 1984.  After her return to the USA she spent several years in part-time ministry in Philadelphia while caring for her aged and infirm parents.  Sister Catherine also served as our Provincial Archivist from 1995 – 2000.
With her missionary heart and love for the poor Sister Catherine was happy to be sent to our mission in San Ramon Parish, Mexico City and then to the Soboba Indian Mission in San Jacinto, California. During her three years in Mexico and her seven years on the Soboba Indian Reservation Sister Catherine truly was a loving and compassionate presence for the people she served. From 2012 to 2017 Sister Catherine was engaged in Hispanic ministry at St. Joseph Parish, Reading, where she was the Director of Religious Education. In August of 2017 she began her term of office as a member of our Provincial Council. It was at that time she received her cancer diagnosis and began treatment.
Sister Catherine was very talented and creative and she was generous in sharing her gifts with her Sisters in community and with others. She cooked delicious meals, baked scrumptious desserts, was a very good seamstress, loved to read and kept her mind sharp with puzzles and word games. And she often had the right "words of wisdom" to share with us at our council meetings. Even though we will miss her physical presence, we are grateful that Catherine no longer has to endure her pain and she is enjoying her well-deserved reward with all the saints and angels in Heaven.