Sister Bonita Heydt, MSC  (Sr. Bonnie)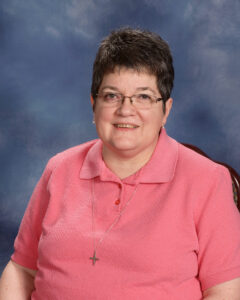 1956 – 2020
Sister Bonnie was born at Sacred Heart Hospital in Allentown, PA where our Sisters ministered until just recently. In fact, our very own Sr. Theresa Lepera, MSC was the maternity nurse in the delivery room when Sr. Bonnie arrived in this world. Years later, when Sr. Bonnie was asked how she first learned about the MSC's she would respond (with a twinkle in her eye) that when Sr. Theresa held the newborn Bonnie in her arms she kept whispering in her ear:  MSC, MSC .  .  . 
Sr. Bonnie attended Our Lady Help of Christians parish school and Allentown Central Catholic High School.  After the family moved to Northampton, Bonnie, along with her parents and younger sister Lisa, became members of Our Lady of Hungary parish where our Sisters taught in the school for many years. It was then that Bonnie became reacquainted with our Sisters and was instilled with a strong desire to be a Missionary Sister of the Sacred Heart. She entered our congregation in September 1982 and professed her First Vows on February 2, 1986. When Sr. Bonnie formally petitioned the Provincial (who at the time was Sr. Theresa Lepera) to make her profession of vows, she wrote: " Since entering the community I have come to know what it means to be a beloved daughter of our Heavenly Father."  
Sr. Bonnie's great passion was to witness to God's compassionate love and healing through her ministry as a nurse. She received her Bachelor's Degree in Nursing at Gwynedd Mercy University in 1994 and her Master's Degree as a Nurse Practitioner from DeSales University in 1999. 
Through the years, Sr. Bonnie ministered at hospitals where our Sisters worked:  Sacred Heart Hospital, Allentown, Sacred Heart Hospital, Norristown, and St. Mary's Hospital, Athens, Georgia, where she was a nurse in Home Health Care, an outreach program that served the poor and elderly. She also worked at St. Luke's Hospital, Bethlehem, and for the Lehigh Valley Physicians Group. Since 2016 she worked as a Family Nurse Practitioner at Penn State Health – St. Joseph Urgent Care in Muhlenberg Township. One of the great joys she experienced working there was when she was asked to travel in the hospital van to the local mushroom farm workers to attend to their health care needs. She and her driver Armando called themselves the "Mushroom Missionaries."  
Sr. Bonnie really enjoyed community life with her fellow Sisters. She appreciated the daily experiences of praying together and sharing the simple pleasures of everyday life.  She also loved her family and friends and looked forward to visits with them whenever possible.  
God called Bonnie to begin a special journey with Him at the beginning of 2020 when she was unexpectedly diagnosed with Stage 4 cancer. She continued working as long as she could and hoped to return when she was cured, but that was not meant to be.  She spent many weeks in the hospital and in rehab where she was too weak to respond to therapy. Finally, she made the decision to begin hospice care and to live her remaining days with her Sisters at Sacred Heart Villa. God blessed Bonnie with a pain-free death as she slept peacefully. May she be wrapped in the eternal embrace of our loving God.