Sister Andrea Versavage, MSC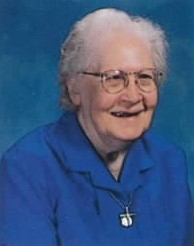 Sister Andrea Versavage, MSC
1925 – 2016
Sister Andrea grew up in a family of six girls and always remained close to her sisters and family members. She entered our congregation in 1947. Sister Andrea's first place of ministry was Villa St. Elizabeth where she lovingly cared for the elderly. In 1958, she went to Mount St. John's, in Dayton, Ohio where she completed her nurse's training. From 1959 to1988, she worked as a Licensed Practical Nurse in our hospitals in Pottsville and Norristown, Pennsylvania. She also served in Mount Trexler, a convalescent and nursing home, in Limeport, Pennsylvania and in our infirmary in St. Michael Convent.
After enjoying a sabbatical in Dover, Massachusetts, she spent some time residing with our sisters in St. Mary's Hospital in Athens, Georgia. When nursing became too difficult for her, she volunteered to prepare the meals in two of our communities, St. Peter's in Coplay and Our Lady of Hungary in Northampton. We were impressed at how her culinary gifts blossomed as she served our sisters in this capacity until her retirement to the motherhouse in 1995.
Sister Andrea endeared herself to all of us by her kindness, friendliness and sense of humor. She had the most contagious laugh which we delighted in hearing. She also brought joy to others through the various crafts she made.
Sister Andrea loved the Blessed Mother and in these last years she always chose her favorite place in chapel, right in front of the statue of Our Lady of the Sacred Heart. Sister Andrea shared with one of her friends, "I look at Mary and she just smiles down at me." How wonderful it must have been last evening when she could behold the face of God and His mother.