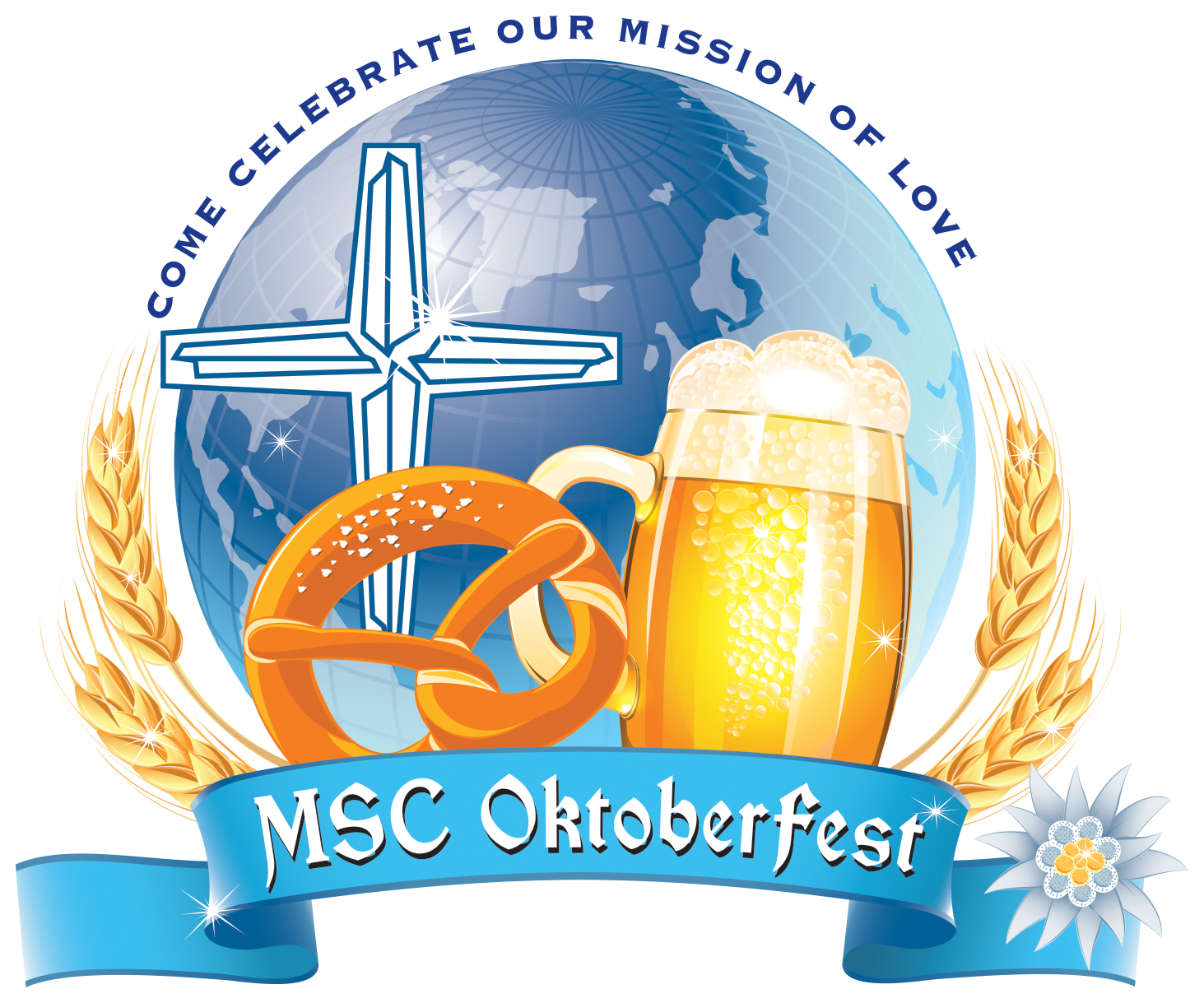 MSC Oktoberfest 2023 will take place Sunday, October 8 at the Reading Liederkranz in Reading, PA. Please check back for details in the coming months.

Prost! To Oktoberfest 2022!
October 9, 2022 began with a strong breeze that caused us to relocate our gratitude posters from open air to under the pavilion, but by noon or so the sun took over, we began welcoming our many guests, and the celebration was underway. By 2:00 a welcome and toast from Province Leader Sr. Dorothy Fabritze, MSC began the music of the Joe Kroboth Band and the attempt to complete her dance card which was rather full. An excellent basket raffle, delicious Liederkranz food, and the German garb of many of our guests created a festive atmosphere punctuated by genuine friendship inspired by the MSC mission of love.
Some of our guests came to reminisce and share time with treasured friends while others came for the first time to meet new friends and enjoy the day. Penny and Mark who attended a Sisters' event for the first time, remarked at how friendly everyone was and accepted a promise of prayers for a special intention from Sr. Dorothy.  Kim and Mary Anne brought their children and danced the day away celebrating with their aunt Sr. Marie Janesch, MSC. Deacon Dave Barto and his wife Marilyn introduced new friends to the MSC Sisters by bringing some guests from Mary Gate of Heaven Parish in Myerstown and the "Arnold Family" once again reunited at this annual event. By day's end many people headed home with basket raffle prizes, several left with promised prayers, and all were glad they came. 
As we know, a successful nonprofit event is highly dependent upon the generosity of sponsors, donors, and volunteers. MSC Sisters is extremely grateful to our Annual Event sponsors and Oktoberfest sponsors who donated both money and in-kind gifts. Equally valuable is the gift of time and effort provided to Claudia Rudderow and Carrie Whitmoyer of the Mission Advancement Office by their Oktoberfest Committee members and event day volunteers. We Missionary Sisters thank Claudia and Carrie and their volunteers which include: Oktoberfest Event Committee members Andrea Bensusan, Nancy Chaiko, Janet Decembrino, Sue Kasopsky, Carol Noga, Rita Phillips, Carm Sosik, and Barb Spinka; and event day volunteers Kathy Blume, David Decembrino, Ellen DiGirolamo, Tony DiGirolamo, Mike Gallagher, Ed Gensemer, Rick Spinka, Rosemarie Sullivan Sandman, Scott Sandman, and Bernie Whitmoyer.
Just as importantly, Missionary Sisters of the Most Sacred Heart of Jesus thanks each of you for your kind support of our mission and lives. Whether you sponsored our event or attended - or both - our hears are filled with gratitude. May we continue to hold each other close in prayer and in love for the Heart of Christ.
Thank you, MSC Annual Event Sponsors & Oktoberfest Sponsors!
In Honor/In Memory of
Burgemeister
Diego & Linda Calderin
Joseph & Barbara Alber
Jagermeister
Susan Krawczyk & Family
Tom & Ann Pirnot
Bergsteiger
Mario Andretti
Arivan Research
Bell Ace Hardware
Tony & Ellen DiGirolamo
Valetta Eschbach
St. Mary's Church/Kutztown
Team Swann
The Jeremy Carroll Foundation
Richard & Jennifer Vermillion
Sylvia Wolff
Mission Partners
T & T Lanco, Inc.
Doug & Helen Didyoung
Fr. George Hazler
Performance Motors, Inc.
Mission Benefactors
Berks Western Telecom 
Mary Jo Bonner & Martin Lubas
FCSLALife
Gethsemane Cemetery
Holy Guardian Angels Parish
Laura Gumprecht
Rose Kubovcsak
Deacon Michael & Mrs. Wilhelmina Laroche
Lay Missionaries of the Sacred HeartIrma M. Lesser
Nancy Missall
S. Ann Moyer & Martin Hupka
MSC Priests of Center Valley
Eugene and Virginia Orlando
Mike & Cathy Pressimone
Tory and Kevin Shearer
Vic & Sharon Silimperi
Stitzel Family Funeral Homes
Msgr. James A. Treston
Maureen & Michael Wilkin
Atty. Frank Yandrisevits
Mission Sponsors
Lorraine Bitetto
Bob's Flower Shop
Ed Gensemer
Patty Gensemer
Bill & Marianne Hertzog
Sharon Jaeger
Ss. Rita, Leo, Catherine, & Menulpha, MSC
Knights of Columbus #15778
Liberty Environmental, Inc.
Vic & Sharon Silimperi
Annemarie Silimperi
St. Catherine of Siena
St. Ignatius Loyola Parish  Sinking Spring
The Loomis Company
Ed & Patti Traupman
Jack & Ann Whelan
Yeager Supply, Inc.
Mission Patrons
Pauline Adams
Sr. Marianne Baker, MSC
Frank Balbirer
Richard & Stefanie Brothers
Domenica Candelori
Mr. & Mrs. William Chase
James & Loretta (Sheidy) Ciervo
John & Barbara Czekner
Tom & Lisa Derkits
Rick & Karen Ebert
Edward J. Erkinger
Jerry & Jennifer Frasso
Anna Furst
Rev. Philip DeRea, MSC
Lorraine Gyauch
Robert A. Hauke, Jr.
Rose Heim
Joanne Hofmann
Elaine S. Jocelyn
Steve & Carol Murphy
Christine & Carl Newhard
MSC Sisters
Brian & Joan Neustadter
Fr. Dick Notter
The Circus Sisters
Anita Jo Paukovits
John/Theresa Franczak; John Paukovits; Connie Paukovits Schmidt
David & Karen Poirier
Roberta Porambo
Vincent & Teresa Principe
Mary Raymond
My husband Felix R. Raymond
Mary Ann & David Roth
Fr. Paul Rothermel
Kathy Sakasitz
John L. Schwartz
Pamela & Rosemarie
Schwartz
Mary Ann Tamburrino
Sr. Marianne Baker, MSC
Daniel Uivary
Joanne Wagner
Sisters' Meals
Frank Balbirer
Deacon & Mrs. David Barto
Sandra Beani
Edward & Ida Marakovits
Jeffry & Tina Biemuller
Lorraine Bitetto
Dr. & Mrs. N. Bitetto
Gene & Christine Brandt
Kris Burns
Sr. Mary Eileen Kantz, MSC
Kathleen Casey
Sr. Mary Ann Lawrence, MSC
Theresa Caton
Billy & Mary Bentz
James & Mary Cawley
Sr. Mary Ann Lawrence, MSC
Carol Cinelli
Craig & Dawn Cirafesi
John & Rosemarie Cowitch
Sr. Catherine Koenig, MSC
Susan Broden
Claire Butler
Sr. Presentia, MSC & Morris Butler
Angela Ciccanti
Mary J. Ciccanti
John & Elaine Davis
Sr. Mary Seibert, MSC
Mary Davis
Sr. Mildred Imrisek, MSC
Theresa Demanop
Sr. Helen Papan, MSC
Tony & Ellen DiGirolamo
Ed Gensemer
Patty Gensemer
Laura Gumprecht
Mr. & Mrs. Leon R. Hubrich
Judy Hubrich
S. Ann Moyer & Martin Hupka
Eleanor Polischak, Mary Hupka
Ernest & Jan Galgoci
Dolores Haizlip
Julia & Conrad Reiber
Kevin & Jeanette Hogan
Mary Ann Hrabovsky
Vicki Kerling
MSC Sisters
Faye & Rick Kooker
Sr. Estelle, MSC
Deacon Michael & Mrs. Wilhelmina Laroche
Denise LePage
Sr. Michele Marth, MSC
Irma Lesser
Sr. Maureen Carroll's 60th Jubilee
Christian & Lisa Leva
Sr. Catherine Cellini, MSC
Nora Leva
Sr. Catherine Crilly, MSC
Anthony & Jacqueline Llorens
Fr. John Fahnestock, MSC
Clara Lush
Msgr. John J. Martin
Rick & Terry Mazich
Sr. Kathleen White, MSC
Rosanne McCarty
Sr. Mary McCarty, MSC
William McGurrin
Sr. Theresa Lepera, MSC
David Miller
Eugene & Margaret Mitchell
Dorothy Michotek
William T. Murphy
MSC Sisters
Ann O'Donnell
Mary Wright
Rev. Thomas J. Orsulak
Cecilia Rabuck
Betty Meloditz
Mary Raymond
Msgr. Walter T. Scheaffer
Jo Ann & Barry Schmura
Ruth E. Scott
Anneliese Tunnhoff
Ava Selya
My Poppop, John J. Bumeder
Tory & Kevin Shearer
Vic & Sharon Silimperi
Annemarie Silimperi
Kimberly Smith
Sr. Marie Janesch, MSC
Tom & Gena Strzelecki
Betty Sweitzer
Barbara Tomlinson
Thomas & Carmella Lepera
Ed & Patti Traupman
Greg & Anita Walakovits
Joanne Wagner
Sr. Barbara Daniels, MSC
John & Ann Whelan
Sr. Catherine Crilly, MSC
Elizabeth Wolfe
Charles Wolfe & Sr. Suzanne, MSC
Sylvia Wolff