'Fireside Chat' warms winter night with vocation stories
"In some ways I feel I was born to be MSC," said Sister Rosemarie Sommers, first councilor on the Provincial Council and one of the Missionary Sisters of the Most Sacred Heart of Jesus (MSC) who shared her vocation story in a "Fireside Chat" Feb. 3 at Sacred Heart Villa, Reading.

Much warmth and laughter filled the room as the sisters shared with visiting laity their heartfelt, heartwarming and some-times amusing roads to the religious life. The event was part of the MSC's "Sharing the Heart" series, explained Carrie Whitmoyer, Sacred Heart Villa's mission advancement director.
---
The Diocese of Allentown dynamically promotes vocations to the priesthood and religious life.  The diocese is reaching out to young people through social media such as Facebook and YouTube.  We are tapping into the energy and enthusiasm of our young priests to find new ways to interest young men and women in the priesthood and religious life.
Last year the diocese instituted the "Quo Vadis" program, which attracted more than a dozen young men to a weeklong summer program of prayer and discernment.
For more information, visit the diocesan website, www.allentowndio-cese.org/the-diocese/vocations.
---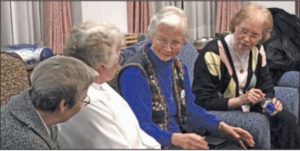 The series includes "Fireside Chats," bimonthly gatherings on various topics. The February chat focused on the sisters sharing their vocation stories and asking their guests to share their vocation stories in light of the Year of Consecrated Life 2015 and National Catholic Sisters Week (NCSW) in early March.
Other MSC sisters sharing their vocation stories were Sister Marianne Baker, co-coordinator of the MSC Motherhouse; Sister Mary Anne Bigos, provincial superior; Sister Marie Janesch, Catholic chaplain at Country Meadows, Wyomissing; and Sister Lorraine Molchanow, spiritual direc tor of the Lay MSC and former provincial.
Also, Sister Bernard Overkamp, who until this past year was one of the MSC Circus Sisters and is now a co-coordinator of the MSC Motherhouse; and Sister Nanette Wisser, pastoral care coordinator for Sacred Heart Villa.
Sister Marie is technically retired but continues to serve.
The sisters created the villa, formerly St. Michael Convent, in 2003 with the vision of providing a personal care home for the MSC sisters and other seniors of southeastern Pennsylvania. The villa incorporates the spirit, love and care that have been the foundation of St. Michael Convent, motherhouse of the MSC province since 1908.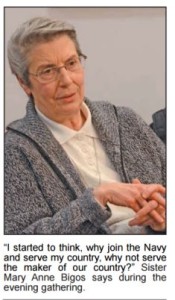 Sister Mary Anne Bigos. "At first I was terrified," said Sister Mary Anne, a parish daughter of the former SS. Cyril and Methodius, Reading, of the MSC sister she had as her first teacher. "All you saw was her face from the eyes down and her hands," she recalled, noting sisters at the time wore a full habit, head to toe.
As a little girl, Sister Mary Anne wanted to be a WAC in the Navy like her aunt. "I didn't know what she did in the Navy, but she played softball and traveled." The Enthronment of the Sacred Heart took place in school when she was in fifth grade, introducing the future sister to the Sacred Heart of Jesus.
---
"It's all about God's love leading you and leading me. If you just trust, amazing things will happen."
---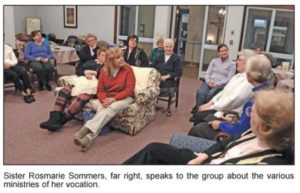 Then Sister Mary Anne was pretty impressed when her class took a bus to spend a day at Vistarama – an eight-day exhibit of the Roman Catholic Church's missionary work at Convention Hall, Philadelphia in 1956. "We didn't have class trips in those days, so that was it," she said, adding she came home with many holy cards.
The MSC sister who taught Sister Mary Anne in seventh and eighth grade had "a subtle influence" on her, as the teacher exhibited compassion, understanding and kindness – the virtues of Jesus.
"I started to think, why join the Navy and serve my country, why not serve the maker of our country?"
A sister asked Sister Mary Anne if she thought of becoming a sister, and after a visit to St. Michael, Sister Mary Anne en- rolled in the high school. "Though I said prayers, in the novitiate I really began a personal relationship with God."
Though Sister Mary Anne wanted to be a sister, she never thought about what she'd do after professing her vows until a sister asked her. "I never realized I had to work," she recalled with a laugh.
Since Sister Mary Anne didn't want to be a nurse, she became a teacher. Subse quent positions included vocation direc- tor, novice directress and a member of the provincial council.
Sister Rosemarie Sommers
Sister Rosemarie came to the former high school at St. Michael at age 13 in 1961. She recalled Missionary of the Sacred Heart Father Michael Camilli – retired secretary of the diocesan Secretariat for Catholic Life and Evangelization – was the longtime pastor at Holy Family, Nazareth, her home parish.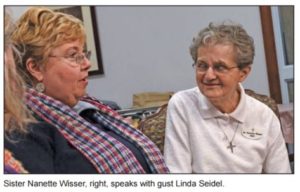 ---
Much warmth and laughter filled the room as the sisters shared with visiting laity their heartfelt, heartwarming and sometimes amusing road to the religious life.
---
Sister Rosemarie was taught by the MSC sisters, and her mother's brother became an MSC priest.
Recalling growing up in Nazareth, Sister Rosemarie said, "In our small town our whole life was centered on the parish and school. In second grade I decided I wanted to be a sister because I wanted to do what they do."
Sister Rosemarie felt called to teach, which she did for many years, including at her alma mater, Holy Family School. "When I was teaching I wanted the children to know God loved them."
Sister Rosemarie was later assigned by the MSCs to community service, including a stint as novice director. Though the sister loved teaching, "I needed to respond to where God was leading me and trust him, and be open to it."
All of her experiences in various ministries have made Sister Rosemarie the person she is today, she noted.
After a sabbatical Sister Rosemarie felt drawn to the healing of mind, body and spirit – and asked the MSCs for permission to become a licensed massage therapist, which she is today. The sisters and villa residents avail themselves of the healing touch of Sister Rosemarie, who for 10 years also offered her services as a massage therapist to retreatants at the Jesuit Center, Wernersville.
"It's all about God's love leading you and leading me. If you just trust, amazing things will happen."
Sister Bernard Overkamp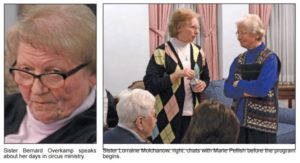 Born and raised in Germany, Sister Bernard always felt called to religious life.
"Religious life runs in my family," said Sister Bernard, though she opted to pursue a different vocational path, to the MSCs. She learned domestic skills and even worked for a butcher while her mother wanted her to earn money and "see the world."
But at 21 Sister Bernard entered the MSCs – then told her parents, who were supportive. She went to do missionary work in Papua New Guinea in 1968 and stayed for 25 years before returning to Germany after asking for a sabbatical and then requesting to go to the United States.
Once in this country, Sister Bernard spent five years working with MSC Sister Virginia Longcope, director of Stephen's Place, Bethlehem, a nonprofit residential community designed to meet the needs of adult nonviolent offenders with a history of substance abuse.
Then life became a circus – literally – when she joined MSC Sister Dorothy Fabritze in circus ministry. Though Sister Bernard was skeptical of life with the circus at first, "What you fall in love with is real."
"It's not the show but the people" who are important, said Sister Bernard, who's }}Continued from page 6 Vocations official "job" was a seamstress in addition to her ministry. So for 14 years she lived in a trailer doing shows all over the United States. Sister Dorothy taught circus personnel and their children, and both sisters provided religious education, preparation for sacraments and the opportunity for Mass.
"The important thing is to be a religious presence among the people. To work with these people is wonderful," Sister Bernard said. "It's a special calling, and I never knew Stephen's Place would prepare me for it."
There was even an altar and religious education center in a trailer, and the sisters had to secure permission to have the Blessed Sacrament in a trailer. "Without Jesus there are no sisters on the road."
Sister Bernard was the co-director of Show Peoples Evangelization of Catholics (SPEC) until 2014. Sister Dorothy and Mary Seibert are now co-directors of SPEC.
"The presence of sisters in the circus is an indescribable gift to people," Sister Marie offered. "I even see it at Country Meadows. People say, 'I'm not even Catholic and she smiles and talks to me.'"
The chat
"Thank you for arranging another wonderful gathering. I'm still blown away by the lives of the sisters, and I'm so blessed by their generosity to open their home, hearts and lives to share with us and so many," Linda Seidel wrote to Whitmoyer the next day.
"Gathering around the fireplace and engaging in conversation with friends was a gift on a cold February night. I'm looking forward to many more "Fireside Chats." Thanks again, Carrie, to you and all of my sister friends."
"My friends and I are still talking about them. I'm so impressed with how they forged through challenges, language barriers, career changes and all in a man's world," Marcella Shaver wrote to Whitmoyer of the chat.
"The sisters seemed to be most active in the decades when women weren't viewed the same. In the mid '80s my mom had to start out on her own when my dad left, and it was quite the challenge for her. I can really appreciate how much the sisters have accomplished, and with so much grace and compassion for others."
Future topics will focus on growing the sisters' mission to be the heart of Christ for others. For more information, visit www.mscreading.org.
---

By TAMI QUIGLEY Staff writer