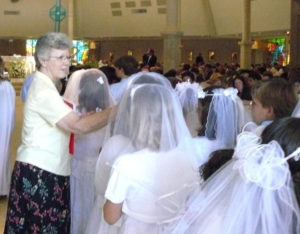 Sr. Maureen Carroll, MSC lives among the parish and school community of St. Ann Catholic School in Naples, Florida.
Sr. Maureen, who has taught at St. Ann's for more than a decade, prepares young students for their Sacraments with gentility and love. Principal Tommy Bridges describes Sr. Maureen as "our anchor" and remarks that she is "a good friend that cares about everyone." Sr. Maureen also is involved in parish ministry where she serves as a Eucharistic Minister and a Mass advisor.
Missionary Sisters have long-been leaders in the field of education, and Sister Maureen continues this mission in an effort to be the Heart of God on earth.